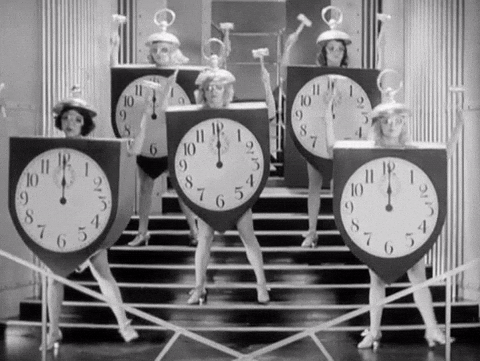 Hello friends!
It has been more than three months since my last post because of a real doozy of a concept: TIME. There's not enough of it, it's spent in strange/boring/arduous ways, it's something I crave and hate simultaneously.
Some Times happen too fast (hello, past three months)
Other Times are sloths on a hot July day, like me trying to figure out how to do my quarterly taxes.
Some Times are magical: "Remember that time when we did amazing things and had the best day and everything was perfect?"
Other Times are forgetful: "Remember college? Kinda"
Or worse, terrible: "Remember junior high? Oof."
Point is: Time has been a sneaky minx right now--very full of work and life and things and plans and schedules and remembering things. But since this too shall pass, I see a light at the end of this Time Tunnel when things will free up and I will have more Time to myself to do things I like to do with Time, which is spend it working on this site.
Sorry for ghosting you, though I hear that's a popular thing right now. I am not that Tinder date, I am not that potential job interview, I am not the text bubble with ellipses...
I'll be back when Time is more on my side. Until then, here are some things I've been reading and watching and laughing at and crying at and thinking about.
Favorite Summer TV shows: World of Dance, Queer Eye, Comedians In Cars Getting Coffee, America's Funniest Home Videos (It took me a while to admit that one but c'mon! it's so classically dumb and silly)
Favorite Summer Reading Material: All the magazines I haven't had time to read yet, the Bed Bath and Beyond circular, the Boden catalog
Favorite Summer Activity: cruising around on my beach cruiser bicycle
Favorite Podcasts (right now): Liz and Alissa Make Stuff, Note to Self, Write Now, My Dad Wrote a Porno
Favorite Summer Daydream: A day to completely reorg my closet situation. Wow!
Other Favorite Summer Daydream: A day to completely reorg my computer filing system. It's all Desktop files and folders marked Random or Miscellaneous or Deal With Later. Blergh!